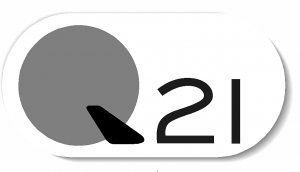 Q21 GmbH, located in Göttingen (Germany), has developed web-based learning systems since the early times of learning management systems and it is specialised in full services for IT based learning solutions for educational providers.
Since 2009 its core working field has been the promotion of professional qualification and knowledge transfer on national and EU level, the development of innovative learning and teaching approaches, and implementing future-oriented activities like the validation of informal and non-formal learning – which are a strong element in all EU projects and thus contributes to the implementation of EU policies. Q21 is also a consulting agency for the planning and implementation of education and knowledge transfer concepts in HR management.
Q21 works with experts from the fields of EU education and practice-related software development, with research institutions at programming software and interfaces between web-based teaching and learning systems (e–portfolio, LMS, CMS, etc.) and validation software (LEVEL5, ECVET and EUROPASS programming). Universities and research institutes have been involved in action research as well as practice partners who have been piloting approaches of competence-based learning and validation (e.g. in software testing).
More information on: https://www.q21.de/