The Erasmus+ Knowledge Alliance Higher Education Project CIM (Promoting Creativity and Innovation Management in an innovative blended learning and validation programme at the interface between higher education and business) aims at developing innovative teaching and learning approaches to include Creativity and Innovation Management in higher education (HE) and in practice. This will be achieved with the help of an innovative, self-directed learning approach at the interface of higher education and business. The following steps will be of great importance for the learners and teachers:
(1) Fostering the perception of (entrepreneurial) opportunities (opportunities that include the potential for value creation)
(2) Teaching methods for generating an innovative idea to solve a perceived problem
(3) Stimulating skills to evaluate the innovative ideas regarding usefulness, desirability, feasibility, legality, ethical-moral aspects etc.
(4) Supporting the implementation of new ideas.
In order to achieve the above mentioned objectives, the CIM consortium is conducting a thorough stocktaking phase to set up a competence framework. That is why currently as part of the first work package the CIM Survey will gather information about the status quo of the establishment of creativity and innovation management within higher education institutions and businesses.  Interviews will follow to deepen the findings.
CIM has been closely linked to the EntreComp framework and will further develop validation on these competences.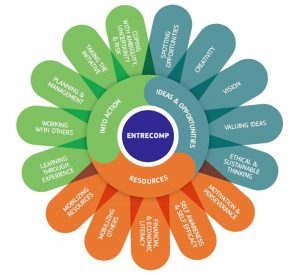 The project consists of 11 work packages:
WP1 Stocktaking – Identifying CIM approaches in European study programmes
WP 2 Developing a validation system for the Creativity and Innovation Management competences
WP 3 Developing a Competence Oriented, open Learning approach (CBL)
WP 4 Developing training and counseling units for educational personnel
WP 5 Piloting the open learning approach in accompanied traineeships and work teams
WP 6 Validation of competence developments, accreditation and certification
WP 7 Evaluation
WP 8 Dissemination
WP 9 Valorisation